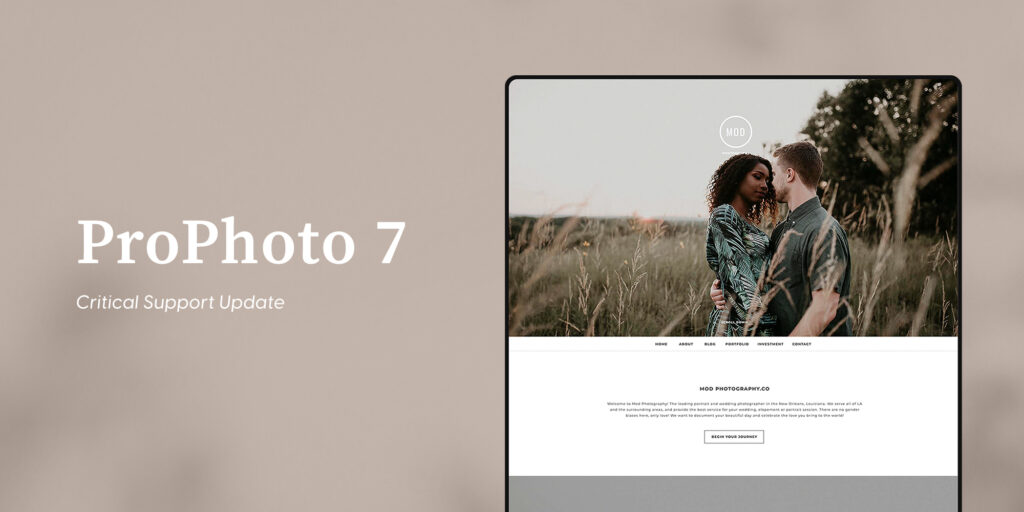 This is a final reminder message to all ProPhoto 7 users that support for ProPhoto 7 will be ending on December 31, 2022. Be aware that this does not mean that ProPhoto 7 will stop working after that date. It only means that ProPhoto 7 will no longer be updated or supported by us. So you are free to continue using ProPhoto 7 as long as you would like, just be aware that you will be on your own after 2022.
As of today's date (November 4, 2022), ProPhoto 7 is fully compatible with the latest WordPress and PHP versions (WordPress 6.1 and PHP 8.1). However, after 2022 ends, ProPhoto 7 will not be updated for any new WordPress or PHP releases.
While it is sad to close this chapter in ProPhoto's history, we are extremely excited about the growth we have seen in 2022 for our new hosted ProPhoto subscription service. Many ProPhoto users (including P7 users) have made the switch to hosted ProPhoto and have been extremely impressed with their site's improved speed, new ProPhoto improvements, and our top-notch support. If you haven't had a chance to check it out, make sure to head over to our website, or contact us directly.