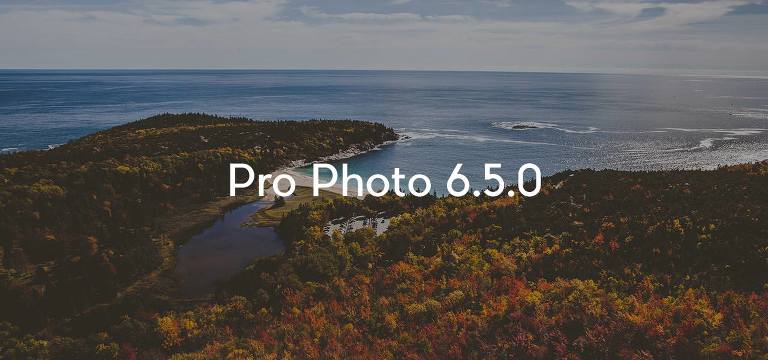 Today we're pushing another auto-update with new features to ProPhoto 6, version 6.5.0. Highlights of this release include:
New "ProPhoto bar" front-end helper with direct widget edit links
Content image max-height constraint
Use form email fields for email notification replies
Cross-browser customizable form validation
ProPhoto Bar
Probably the most consistent feedback we get about P6 is something along these lines: "Wow, P6 is so great, but it has a bit of a steep learning curve." It's a fair assessment. The incredible flexibility provided by the infinite combinations you can make out of templates, blocks, rows, columns and widgets means that you can build every page of your site exactly to your liking. It also means that it's easy to get lost and not know where to go to change something.
Therefore, we've begun to devote a lot of our development time to making P6 easier to use. You'll begin to see a steady flow of helpful usability improvements coming in the weeks and months to come. We've got a lot of stuff in the works to make initial design setup simpler and more intuitive, and aids to help you know exactly where you are and where to go to customize whatever you want to change.
The very first of these comes today. In this update we're introducing a new front-end helper that we call the "ProPhoto bar." Sounds delicious, right? If you're logged in as an admin, you'll see this little square in the lower left side of your screen: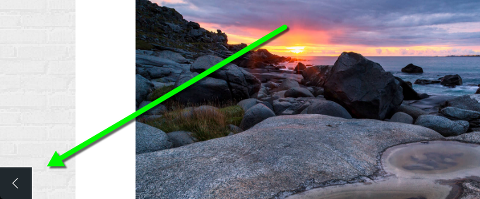 Click the square, and it will expand into the full ProPhoto bar, as shown here:

The first two items you'll see you should recognize — these we pulled down into the ProPhoto bar from the WordPress admin bar where we originally placed them. One is a display of the template currently being used by whatever page you're viewing, and the other is the responsive screen size your browser is currently at. We have plans to greatly expand these simple info areas to give you rich, interactive detail — which is why we pulled this out of the WordPress admin bar. We're going to need a lot more room and control. More to come on this front later.
Keep looking at the expanded ProPhoto bar and you'll see the new "inspect" icon:

Clicking on the inspect icon changes you into "inspect" mode. Now, hovering over your site, you'll see outlined all of the individual widgets with direct edit links:
If you click one of the widget edit links, your customizer will open, and we'll automatically scroll you to the widget you clicked, and highlight it for you:
Very soon the "inspect" mode will be expanded to show you blocks, rows, and columns, and allow you to link directly to those as well. This is just the tip of the iceberg. Eventually, we hope that you'll be able to get loads of helpful detail by mousing over things on your site front end, helping you connect what you see visually to the right place to make changes. Stay tuned for more on this.
Content Image Height Constraint
One of our most upvoted enhancement requests was for content image height constraint. For a fully responsive site like P6, you want to upload pretty large images to make sure they look great on large laptops and desktop screens. But these large images can sometimes display taller than you would prefer.
With this new feature, you can now specify if and how to constrain your post content images.

You can constrain your images to a percentage of either the window height, or width. This feature is turned off by default, so if you want to use it, jump into your customizer, go to your base template, and find the "Content" > "Content Images" area.
Forms Enhancements
We've also got a bunch of enhancements in the queue for our "Forms" feature. The first of these land in 6.5.0.
Form Email Reply-To
In 6.5.0, when setting up an email field in one of your forms, you can designate that the email address supplied should be used as the address to send replies to when you reply to the ProPhoto automated form submission notification emails.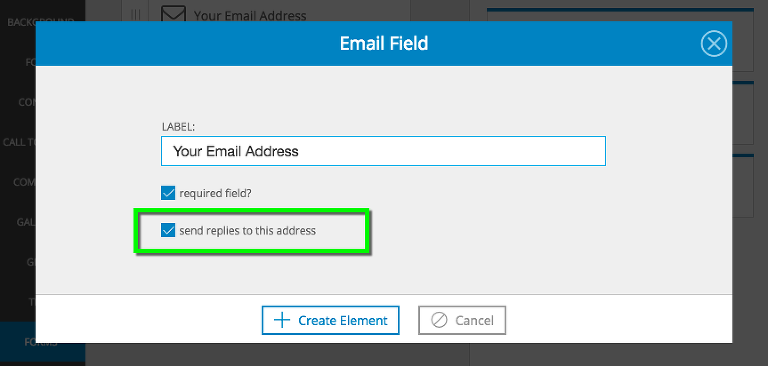 Form Cross-Brower Validation
The initial implementation of the ProPhoto 'Forms' feature relied on native browser field validation for fields marked required (which is not supported correctly in Safari), and did not allow you to customize or translate the invalid state messages. This is solved in 6.5.0.
You can now change or translate the invalid messages: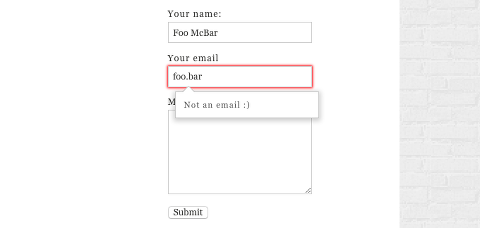 More to come…
We have lots more on the way fairly soon, including more inspection mode helpers, a design template-setup wizard, form improvements, and grid enhancements. Thanks for all your valuable feedback.
As always, if you want to read more of the nitty-gritty detail, check out the P6 changelog.