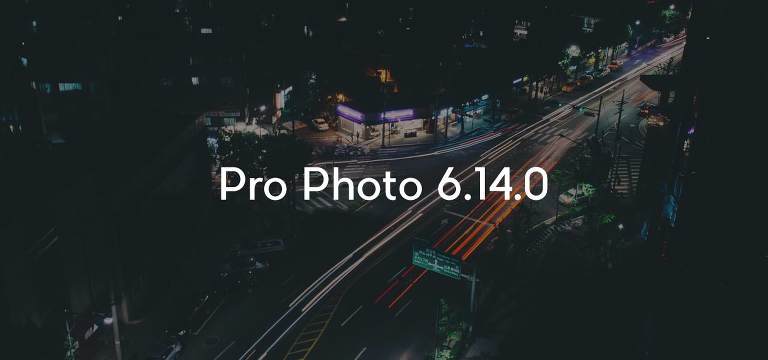 Today we're pushing out another free feature update to ProPhoto, version 6.14.0. This is a pretty big update, and includes a major feature our users have been asking for for a long time — the ability to customize and preview a "non-live" design. Plus, a really great gallery usability enhancement, and more:
Preview and customize a different design from what your site visitors see
New free included design: Coming Soon/Maintenance Mode
Embedded galleries now displayed as an interactive visual graphic element
New controls for managing visibility of gallery permalink page titles and dates
A new notifications system built into the ProPhoto bar
Totally redesigned "Manage Designs" screen with improved usability
Working on a non-live design
Probably the biggest feature in this release is a new ability to preview and customize a design different from what is showing to your site visitors. We're really excited about this feature — it's been a long-standing request from our customers, and is another good fruit of the deep foundational work we did re-building ProPhoto for version 6.
Starting in 6.14.0, your Manage Designs screen now has some new terminology. First, you'll see that you now are shown what used to be called your Active design, as your Live design — this is the design being shown to your site visitors: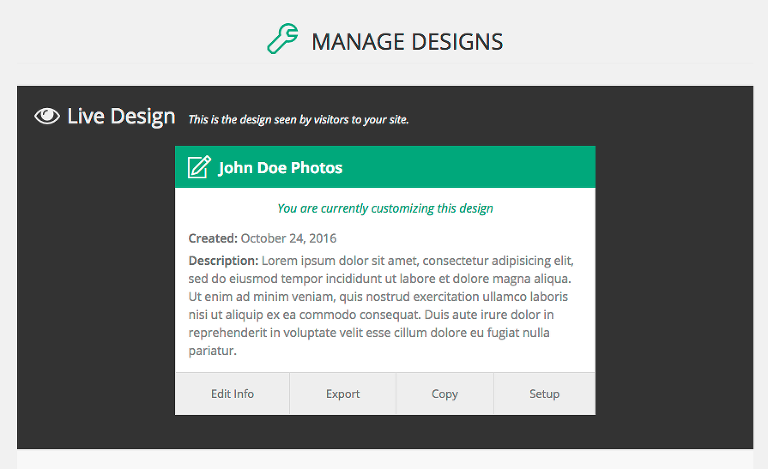 Then, if you want to keep showing this live design to site visitors while you work on getting a new or modified design ready, you can now click the green Customize button on any of your other designs: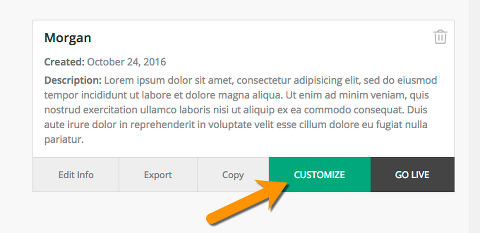 Clicking this button will make this your Customizing Design — that is, the design that you only are customizing and previewing: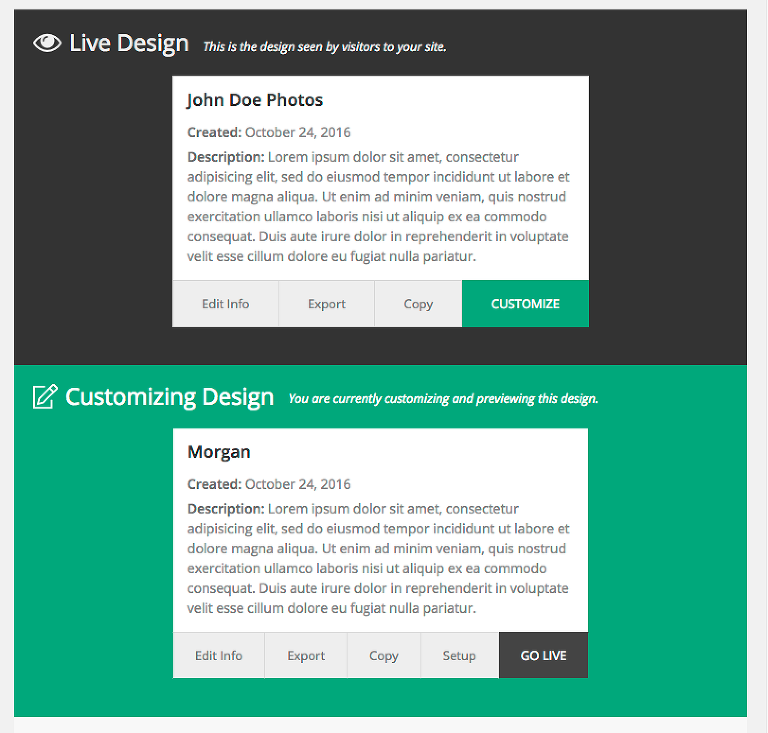 This means that you can comfortably tweak and experiment with a new P6 design without any of your changes being "live" for your site visitors. Only you, as the logged-in admin, will see the design you're working on. Then, if you like the work you've done, a single click on your Customizing design can make it the new live design: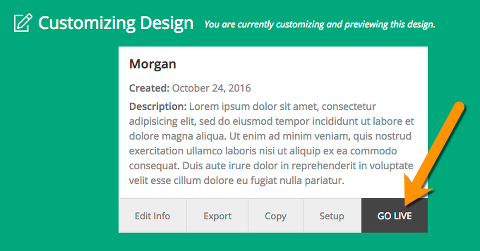 When you're working on a design that is not the live design, we've added a little visual cue to help remind you that you're seeing a different design from what your site visitors are seeing — we turned the toggle button of the ProPhoto bar the same green as the customizing design uses in the Manage designs screen: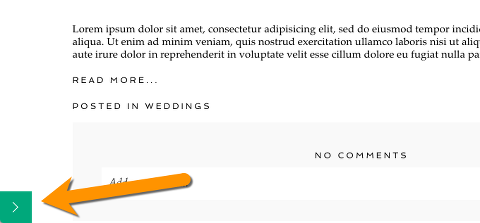 When the ProPhoto bar is maximized, you'll also see another new feature in 6.14.0: a display of your current design (green if you're previewing a non-live design) with the ability to easily switch which design you're customizing:


We've also added the same design switcher to the main customizer admin screen:

Redesigned Manage Designs Page
You probably noticed from the above screenshots, but in order to support the new features in this update the Manage Designs screen got a complete visual overhaul, including a number of subtle but important usability improvements.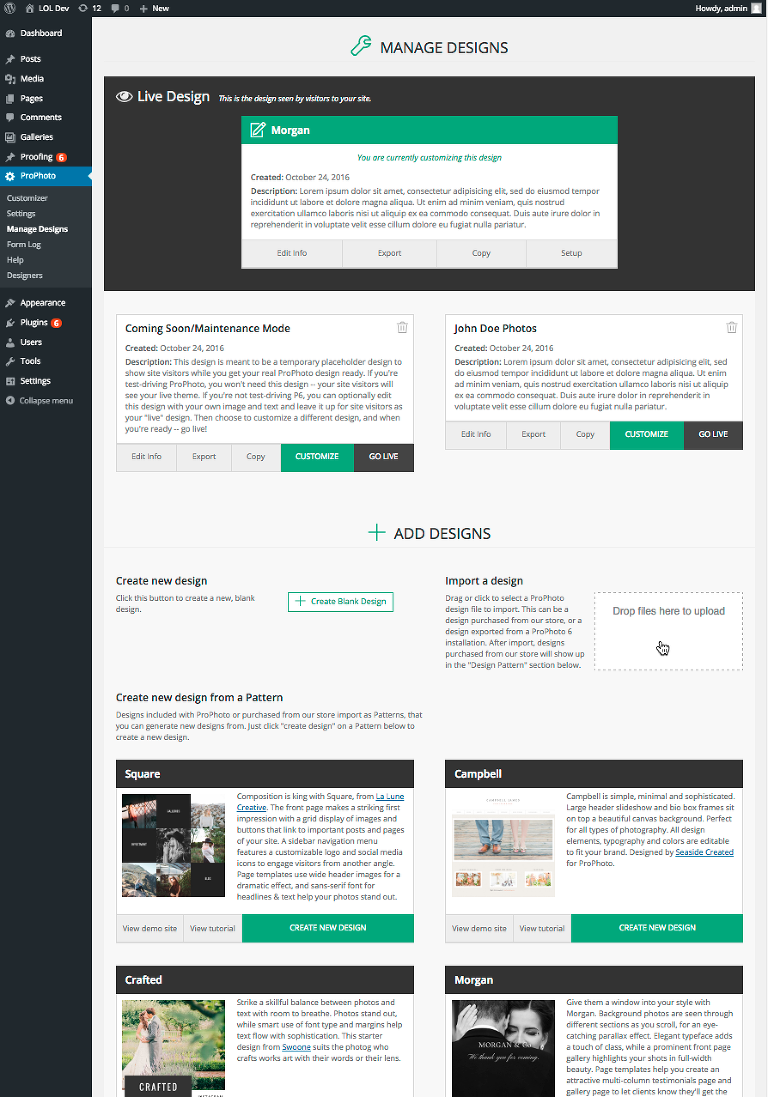 New design: Coming Soon
The ability to work on non-live designs opens up a ton of cool possibilities — including the ability to use a simple P6 design as a coming soon or under construction placeholder. P4 and P5 had a feature of being able to show some simple text as an "under construction/maintenance" mode. This feature effectively hid your site while you were working.
But, now with ProPhoto 6.14.0 you can have a customizable placeholder design instead that includes individualized graphics, links, fonts, and text.
To make this even easier, we designed and included a simple "Coming Soon/Maintenance Mode" design for P6, it looks like this: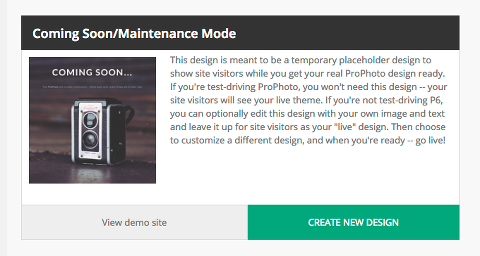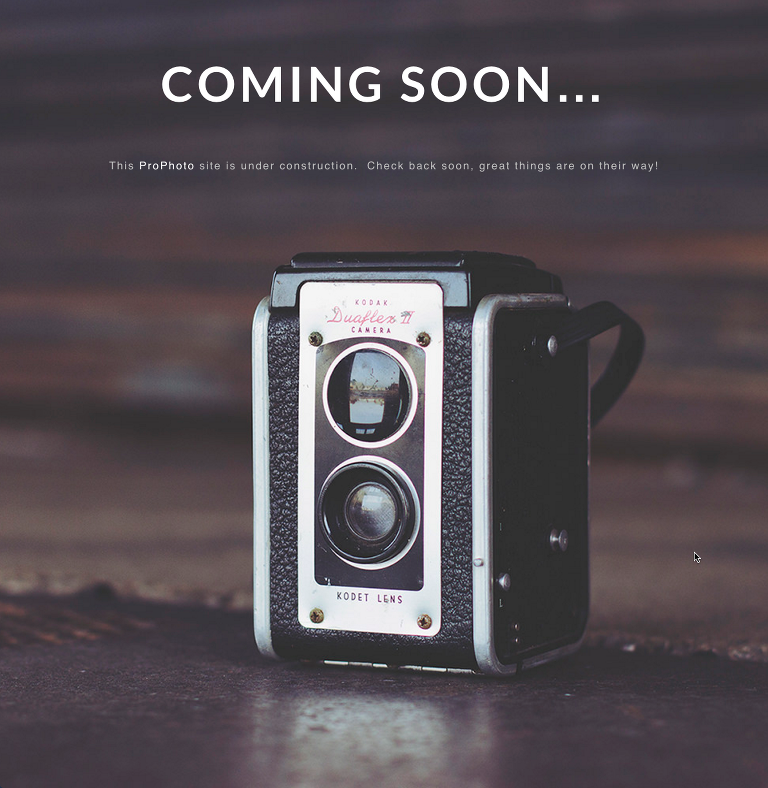 This design is meant to be used with our new customizing non-live design feature — the idea is to show this design to your site visitors as a placeholder while you work on your real P6 design.
The design itself is simple. With a few clicks you can make it your own, by swapping out the background image and text: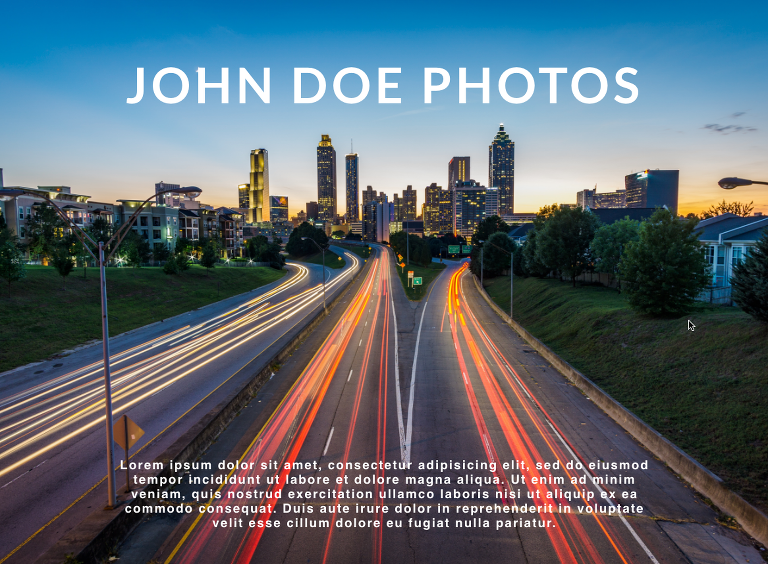 One important note: feel free to customize the "Coming Soon" design, but don't use it as the basis of building your permanent design. You shouldn't do this because the Coming Soon design includes some code to hide all of your site content, so that every page only shows the coming soon message.
Embedded Galleries
Another big piece of 6.14.0 is a drastically improved UI for interacting with embedded P6 galleries. ProPhoto 6 allows you to embed any P6 gallery within a post or page. Before 6.14.0, when you embedded a gallery, you would always see the raw shortcode, like this: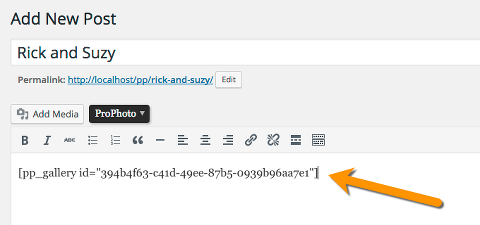 This worked fine, but was not very easy to edit or delete. And if you came back to your post or page after a while, it was really easy to forget what gallery you had embedded.
In 6.14.0, we've replaced the shortcode in visual mode with a rich interactive element, as shown here: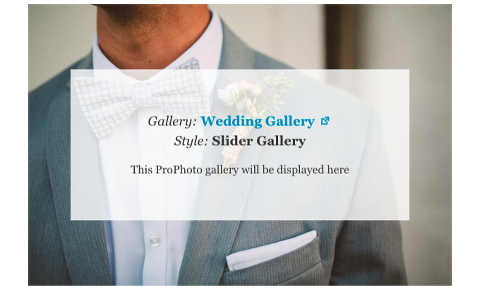 It displays the galleries first image, links to view and edit the gallery, and also the selected gallery style.
Click on the element to show the edit/delete buttons: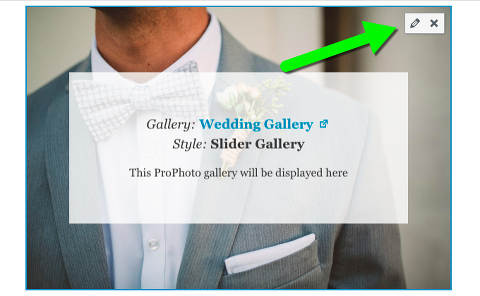 Gallery permalink page controls
Also in this release, we've added some requested controls for designating what portions of the post header appear for P6 gallery permalink pages. These new controls are found in the customizer in the Templates > Gallery section. You can now control whether your gallery permalink pages show the gallery title and date:

By default, gallery titles are shown, and dates are hidden. Because these are template-level controls, you can dial in the appearance of these items in one place (at the base template), or get more fine-grained and modify the behavior for various templates.
ProPhoto Bar Notifications
One other thing we added to support the new features in this release was a simple notification system built into the front-end ProPhoto bar. Here's an example of the new notifications: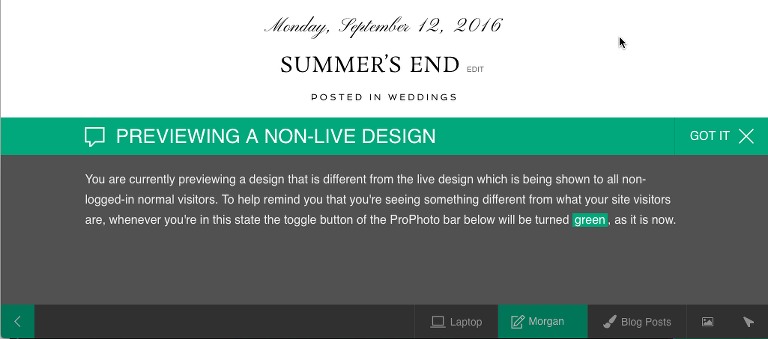 We're hoping the notification system will allow us to draw your attention to new features and important facts without getting in your way.
And more…
As always, there's more gory details on the changelog. This release finishes more than half of our Ezra milestone, and one ticket of the next milestone. More info here on our roadmap.
A quick note on timing of our next few milestones — we're going to temporarily slow down on releasing new features for P6 while we take some time re-building our own site using P6. So the rest of Ezra and Sebastian will be later than originally anticipated.