This morning we are pleased to announce the release of our next major version of ProPhoto, version 5. ProPhoto 5 (P5) is available for new purchase or upgrade now in our store. New purchases are still $199, and if you own a copy of ProPhoto3 or ProPhoto4, you can upgrade for just $89. If you purchased ProPhoto within the last 30 days (on or after December 7, 2013) you can upgrade for a discounted price of $20.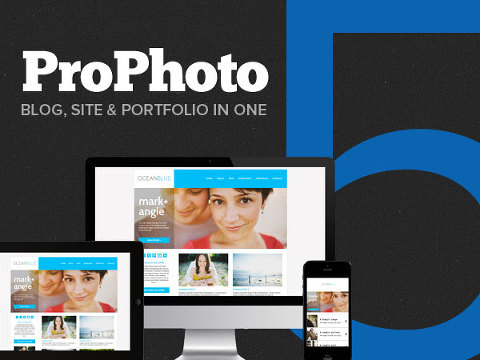 What's New?
There's a ton of great new features in ProPhoto5. In the days to come we will publish and post a video showing off a few of our favorite new things. Just to whet your appetite, here are just a few of the things you'll find:
brand new "Slider" image gallery format

retina display support for all content images

threaded comment support

Instagram widget

ProPhoto "Buttons": create clickable layered graphics from text and images with hover states

custom cropped or masonry style Lightbox gallery thumbnails

tons of new layout possibilities: full-width menu, footer, fixed and "sticky" menus, full-height and fixed sidebar, and more…

built to support the ProPhoto Proofing plugin, which will be released in Spring of 2014
In a few days we'll publish a video showing off many of the new features. If you'd like a longer list of new feature details, see here.