Proofing Plugin users, yesterday we pushed a free auto-update for anyone on auto-update capable sites. The main feature in this auto-update is sub-galleries. Sub-galleries will allow you to break up large proofing galleries into organized and more reasonably sized sub-groups.
Sub-galleries
With the latest build of the Proofing plugin, you can now choose from one of three gallery "types": standalone, parent, or child.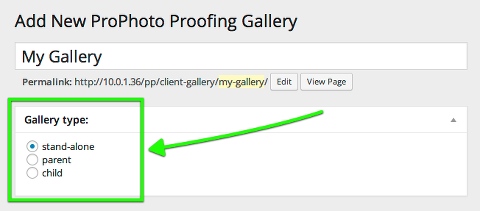 Standalone galleries
Standalone galleries are galleries that, well, stand alone. They are just the same as any gallery you have already created with the Proofing plugin. They do not have a parent gallery, nor do they have any child galleries. You add images directly to them, and configure all of their options (products, discounts, downloads, etc) in one place. This is likely the most common (and thus the default) type of gallery.
Parent galleries
Parent galleries are proofing galleries that contain other proofing galleries. Parent galleries do not have any images directly attached to them, but they contain all of the other configuration options.
Child galleries
Child galleries are galleries that are contained by another proofing gallery. Child galleries allow you to upload and order images, set optional text content, but all other options are inherited from the parent gallery and thus, not available.
Parent gallery display
As mentioned above, parent galleries do not have their own images, they only contain other (child) galleries. The child galleries can be displayed in one of two ways: cover photo, or grid.
Cover photo display
If you choose to display your child galleries in "cover photo" format, it will look something like the below image, with each child gallery displayed as cover photo:
Grid display
If you choose to display your child galleries as a grid, you can choose their style, format, and other options:
The child galleries will then appear as customized:
More parent/child gallery info
When you are viewing a child gallery, the user will be presented with links to navigate back and forth to adjacent sibling galleries.
User-created shopping carts are tied to the parent gallery, so your users don't need to send separate orders for the images they want to buy in each sub (child) gallery, they can submit one order containing images from different child galleries.
Collections are tied to the child gallery, unlike carts being tied to the parent. So if a user submits their "Favorites" collection from a child gallery, it will not also submit the collection from any other sibling galleries.
Also in this auto-update:
Beyond sub-galleries, there are a number of other fixes and improvements contained in this auto-update, including:
fix for a bug that caused gallery thumb images in "slides" format to render at the wrong size after mobile device orientation change
fix bug that causes proofing gallery to not render on mobile device after ajax page load
increase the number of available proofing product categories, groups, variations, and digital download products
gracefully and intuitively handle digital download products that are given away free in the add-to-cart screen
use proofing gallery optional text content for standard excerpt text, if available
add links to many new tutorials from proofing-related ProPhoto input box lifesaver icons
fix bug causing deletion of proofing products to fail