This afternoon we're pushing another free auto-update to P4. Everyone on a capable web-host (about 96% of you) should see ProPhoto auto-update itself within 24 hours. This auto-update has some pretty cool new stuff, and I'll be blogging more in the coming days about some of the details of the new features. Here's a couple teasers:
Music for slideshows is back…

…and better than ever. We removed music support completely when we dropped all flash in our P4 upgrade, but now we've added back support for music in slideshows with a non-flash, HTML5 music player that also works on iPads and iPhones. ProPhoto will also automatically reconnect all of your old P3 MP3 files to your imported P4 galleries. More details in a future blog post.
Basic Pinterest support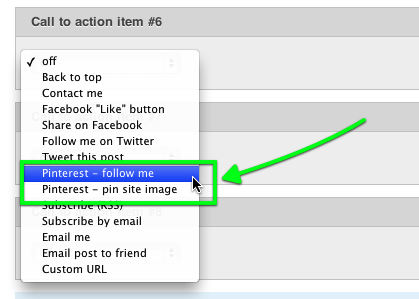 This is only the beginning of our plans for Pinterest integration in the weeks and months to come, but we've started by adding simple, built-in Pinterest "Follow" and "Pin site image" options into the "Call to Action" option area. Check it out and let us know what you think.
Facebook "Like" button improvements
Improved Facebook integration was the most requested new feature in our recent poll, so we've already gotten started making improvements. We'll have lots of details in future blog posts, but the basics of this update include:



New free starter design: Sunny California
We teamed up with Matt from LaLune Creative to add a new, free starter design, called Sunny California.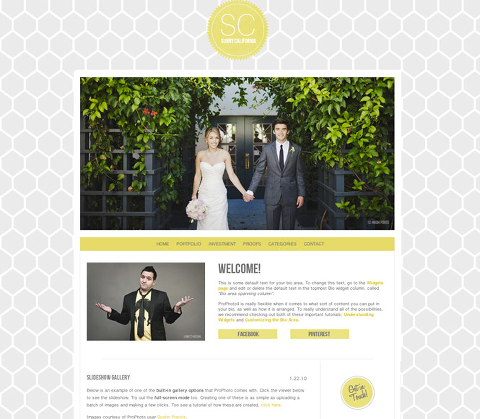 The new design looks great, and makes use of the new built-in Pinterest Call-to-action functionality. One of the reasons we added this new starter design was to replace "Late August" as the default starter for new users. Late August is great, and still a free, included starter design, but it's not the easiest to edit and customize, so we thought it would be a win for usability to start out with a more straightforward starter design.
The gory details:
For the nerdy or incredibly inquisitive out there, here's the standard run-down of just about everything that was changed since the last auto-update we pushed:
02/08/12 – restore music files from P3 slideshows that had music and were imported into P4

add MP3 music functionality back to ProPhoto slideshows, without using flash for iPads and iPhones

02/07/12 – stagger automated Emailswarning users about dangerously out-of-date WordPress installations, so as not to overwhelm our support staff

fix rare problem with certain Font Squirrel web kit zip uploads

02/06/12 – mobile masthead needs to obey modifications on certain page types

02/02/12 – Facebook "Like" and "Send" button integration in "Call to Action" areas, with new HTML5 API, allow commenting on FB while liking

fix mobile menu WordPress "Page" links to use correct, pretty-permalink URL

fix grids in sliding sidebar drawers not obeying font customization settings

apply image drag/drop protection to large images in post excerpts

fix bug in masthead slideshow modified on certain pages logic with header layouts where masthead and logo share same line

02/01/12 – revamp Facebook "Like" button in post footer area, switch to HTML5/JavaScriptSDK API, allow addition of "Send" button and commenting while liking

01/31/12 – prevent rare problem where multiple P3 galleries where being replaced by one gallery after import, caused by 32-bit integer overflow and very large Post IDs

add new, free, default starter design "Sunny California" – props Matt Hudson and LaLune Creative

add very basic Pinterest integration into Call-to-action area, follow button and pin-site-image functionality

fix problem with Twitter tweet date-permalink URLs caused by new Twitter API

prevent saving of designs with empty ID, caused by rare P3 data corruption issues

ensure proper import of P3 non_design options that are now design options in P4, these were getting inadvertently stripped out during import

don't put private posts into grids

sites on NSX.APLUS.NET nameservers are non-auto-upgrade-capable because they run a Zues-like NFS filesystem that can cause major failures on auto-updates