This morning we pushed another auto-update to P4 users on web-hosts capable of handling automatic updates. The auto-update fixes a number of small glitches that affect some users.
The biggest bug we fixed was that for about half of the users that purchased in the week, the green "Edit" links on ProPhoto Gallery and Grid placeholders wasn't working. That's fixed now, sorry about that.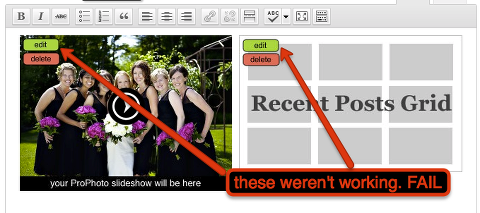 If it hasn't already done so, you ProPhoto blog should auto-update next time you log in. If it doesn't, you're probably one of the 5% or so of our users on web-hosts not capable of handling auto-updates. If you're in that group, don't worry, there's no need for you to update to the latest build unless you're directly experiencing a problem. If there is a critical update you need, we will notify you about it.
For the curious or nerdy out there, here is a fairly exhaustive list of all of the changes since the last auto-update we pushed, build #944:
01/30/12 – refine wording on upgrade notification for non-auto-upgrade-capable hosts

01/27/12 -correct typo causing broken link to comments-header help tutorial

new mini-feature: secure, generated .zip download links for latest build in ProPhoto admin area

fix ajax spinner image rendering glitches caused by WP 3.3

01/26/12 – force widgets page out of accessibility mode to ensure proper JS functionality and widget saving, especially with Grid widgets

add more WebHosts and server types to internal info functions

01/25/12 – fix grid and gallery placeholder image "Edit" links not working since recent change to ProPhoto post create/edit toolbar links

convert Gallery quasi-posts (Lightbox in Post and Slideshow in Post) to function like WordPress "Pages" and obey Page-specific logic for other features

01/24/12 – don't show Facebook "Like" buttons on gallery quasi-pages because Facebook rejects these URLs for some reason, will fix later

don't die when encountering a photoshop psd file, instead handle gracefully and prohibit uploading, even when with .jpg extension

fix scroll to contact form issue in Firefox

allow for plugins, esp ProPhoto Tweaks, to override removal of "From URL" tab in WordPress media upload area

fix rare JavaScript bug that broke menu admin when menu structure contained only one link and was set to "split"

01/23/12 – change sidebar CSS selectors so that widgets can properly override it with widget-specific css, fixes problem with vertical nav widgets not rendering correctly

new dropdown on WordPress admin posting page, instead of several ProPhoto buttons, to play nicer with plugins and allow for future growth

fix recent posts grid cache not clearing when future-scheduled posts published

fix slideshow active thumbnail border color which was not applying