Today we're making a new feature available for ProPhoto 5, article-specific options.  We aren't pushing an auto-update with the new feature, because we want to let it trickle out to our customers and deal with any potential bugs we may have missed.  If you like what you see though, you can go to "ProPhoto" > "Customize" > "Site Settings" > "Misc." and trigger an auto-update to the latest build to try it out.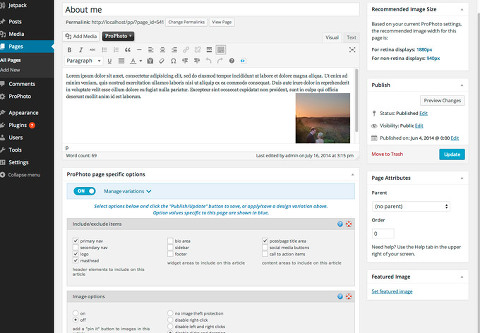 Article-specific options are a sub-set of ProPhoto options available on each article edit screen that only applies to that specific article (by "article" we mean any post, page, or custom post type). Use them, for example, to turn off page title display on just your static home page, or disable Pinterest image pinning on just one particular post.  Such options give you much more control over the appearance of each page of your site.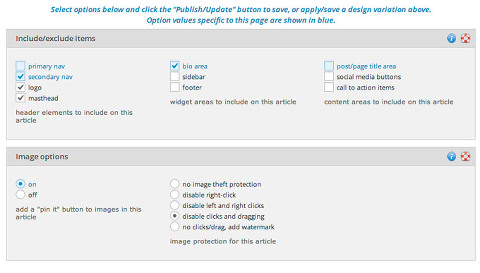 You can also save these sets of options as ProPhoto "Variations" that can be applied to other articles on your site with just one click.  Variations can be added, applied, and deleted from the same option area on any article edit screen.  You'll also start to see designs being added to the store that will include their own design variations that can easily be added to different pages of your site.

We're open to adding additional options for each article down the road if there is enough demand and the implementation seems doable, so feel free to give us feedback.
For a full description of how to use this new functionality, see this tutorial .