We receive tons of input about ProPhoto almost every day. What new features you want, what customization choices you wish you could change, etc. Because we have so many users who want so many things, we have to make hard choices about what makes it into ProPhoto and what does not. Every time we add a feature or a customization option, there is a small amount of simplicity and usability lost, so we can't just include every good idea.
Because of our near-constant struggle with the trade-off between wanting to keep customers happy, and not wanting to bloat the main ProPhoto core software, we recently built an official add-on plugin for ProPhoto called the "Tweaks" plugin.

The purpose of the tweaks plugin is to allow for fringe customizations that are valid and important to a small number of users, but not worth including as a built-in customization option for everyone. When you install the plugin, it adds another menu item to your ProPhoto left-hand WordPress admin menu: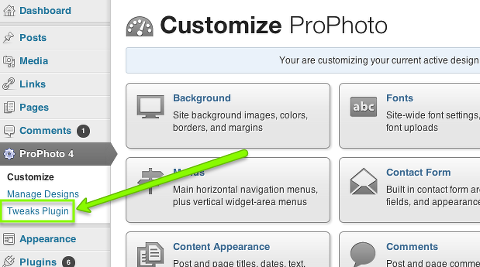 Clicking on the Tweaks plugin link takes you to a screen where you can start taking advantages of currently available tweaks: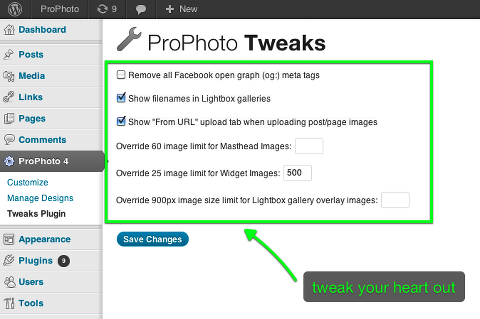 Currently, the list of supported "Tweaks" is sort of small, but it's a good start. You can:
remove all ProPhoto-generated Facebook meta data if you'd rather use a plugin

force filenames to display for every image in Lightbox galleries, even when no custom title is set (useful for proofing with clients)

restore the "From URL" tab to the WordPress upload screen, allowing you to insert images from hard-coded external image URLs

override the default limit of 60 masthead image

override the default limit of 25 widget custom images

override the default Lightbox image size constraint of 900 pixels
We will be slowly adding more tweaks in the weeks and months to come, and will likely do a blog post every time we add something to the plugin. If you want to make use of the plugin, we have detailed installation instructions over here.