If you follow our blog or the ProPhoto Facebook page or the ProPhoto Twitter feed, you may have noticed that we're keeping pretty busy around here! But in case you've been a little out of the loop, we thought you might want to know about a few new ways you can keep tabs on the cool new things we're building to help you create an engaging website for your business.
GitHub and P6 Roadmap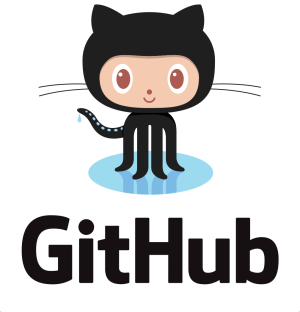 We've been writing a lot of code so that you don't have to. But as ProPhoto becomes the most versatile & powerful WordPress theme available, we needed better tools ourselves.
We're using GitHub to make it easier to organize our work, but also because we want be more transparent about the ProPhoto development process. You can use these new tools to learn about and be involved with ProPhoto's development process:
ProPhoto 6 Change Log – this is the place you'll find details about each new update we release for ProPhoto 6. We'll list changes, bug fixes, and new features every time your ProPhoto 6 setup auto-updates with the newest release. You can click the version link at the bottom-right inside WordPress any time to view the change log on GitHub. Here's an example: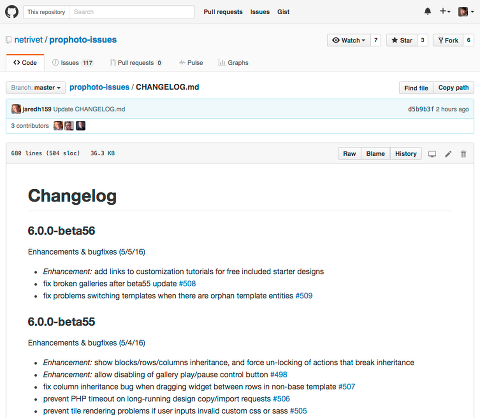 ProPhoto 6 Issues page – this is the place we list upcoming features and bug fixes. It's a little technical sometimes, but if you're waiting for a specific feature to be added, it might be listed here. Most issues are grouped with labels so you can filter, for example, to see any bugs or features relating to image galleries.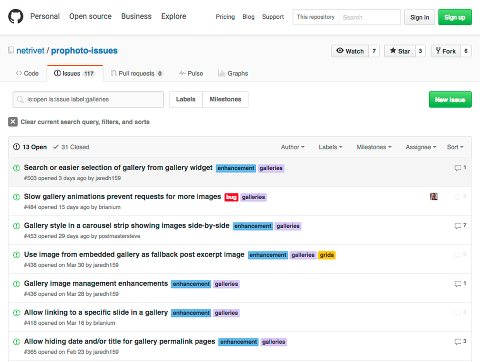 With your own free GitHub account, you can even vote for and comment on things which matter most to your site. We take your feedback seriously, and have bumped-up several features during beta just because you told us you need them.
ProPhoto 6 Roadmap page – this is a prettier, condensed, concise version of the GitHub Issues page above. If you really just want to know roughly when we plan to add certain features to ProPhoto 6, you'll find the main ones listed here. The dates are simply estimations, made public to give you an idea of our schedule. You may find that a feature is completed at a different time than we originally planned, but we'll stick mostly to this roadmap.
ProPhoto 6 Support
Considering all the kind words we've received about the tutorials and videos we create, you probably already know about the staggering amount of help for our ProPhoto 4, 5, and Proofing software. But the future is coming, so we've been working to create a new set of help for ProPhoto 6 which we've organized in a new way.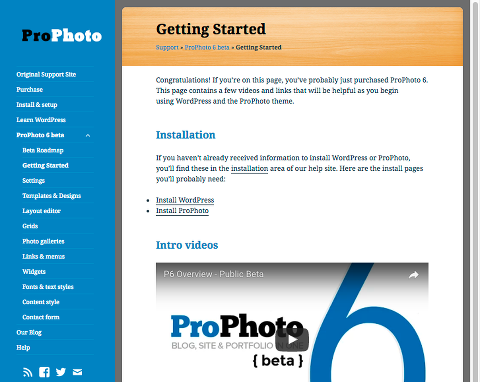 If you're already using the ProPhoto 6 beta, or if you're thinking of buying the new version soon, we'd recommend checking out the new help site for lots of details: New ProPhoto 6 Support
Much like ProPhoto 6 itself, the new help site will continue to improve. Lots of videos, tutorials, and improved appearance are all just around the corner. And we welcome your feedback below each page, so we can improve our help if it doesn't quite hit the mark for you.
And as always, you can reach us in all the existing ways, like in the comments section below.