Here at ProPhoto, we've never really done any advertising. We figured out early on that if we just focused on making a great product and supporting it like crazy, that our customers would do our advertising for us. One thing we have done almost since the beginning however, is offer our customers cash rewards for referring their friends and colleagues to us.
If you love ProPhoto and naturally find yourself recommending it to friends and online acquaintances, then you could be saving your friends money and earning a bunch of referral money at the same time. Many of our customers have earned back the cost of purchasing ProPhoto many times over just by giving out their personalized discount code.
How it works
Here's how it works: if you don't already have one, you need to go to this page and fill out a simple form so that we can generate for you what we call a "Quick-buck" code.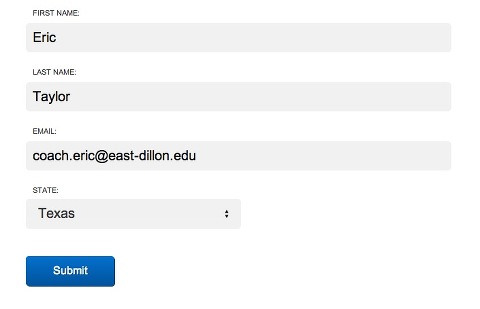 Once you submit your information, the next screen will show your custom referral code, plus a bunch of tips on how to use it.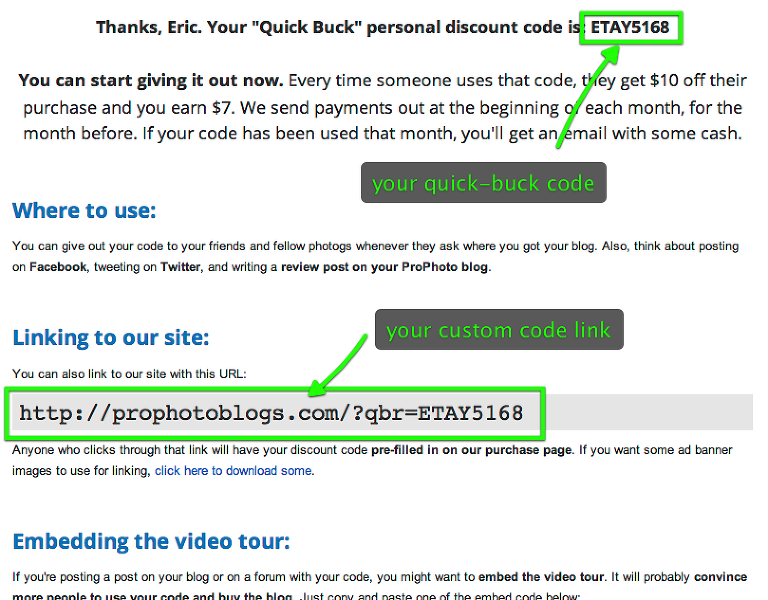 Using your code
You can hand out your code anywhere you like. If you tell a friend about ProPhoto, give them your code. You earn $7 each time it is used. It doesn't just earn you money, but it also works as a $10 discount code for them.
At the beginning of every month, you'll receive an Email letting you know how many times your code was used, with the money being sent directly to your PayPal account.
As described on the screen shown when you sign up for your code, you can send or post links directly to our site with your quickbuck code embedded in the link. They look like this:
http://prophotoblogs.com/?qbr=YOUR_CODE_GOES_HERE
If anyone clicks on your link and then purchases ProPhoto in the next two weeks, your referral code will be credited for their purchase.
Ideas for sharing your code
Writing up a detailed review of ProPhoto on your website that includes your code is something that a lot of our customers have done with great success. Many of them have earned back the price of their purchase several times over just from a posted review.
Other common places for sharing your code:
Faceboook friends

Twitter followers

Forums you participate in

Google groups

skywriting

tatoos
Just be careful not to be spammy with where and how you share your code. Only give it out or post it where you've earned permission to share great resources with those that care about your opinion and might benefit from using ProPhoto.
Banner images
Over the years, many people have asked us for some advertising-type banner images to use when promoting ProPhoto with their quick buck referral link. If you want some of those, click here to download a zip file with a bunch of images.
Using your sites "ad banners" area
Your ProPhoto site actually makes it pretty darn easy to make some money promoting ProPhoto. If you want, you can always download the banner images linked above, and upload one of them as an ad banner under "ProPhoto" > "Customize" > "Footer" > "Ad Banners". Set the link URL to your custom code link, as shown below: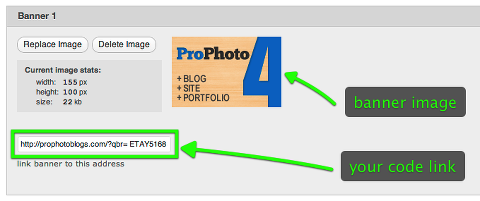 The image will then appear in your site's footer area, and every time a user clicks through that link and purchases ProPhoto, you'll earn $7.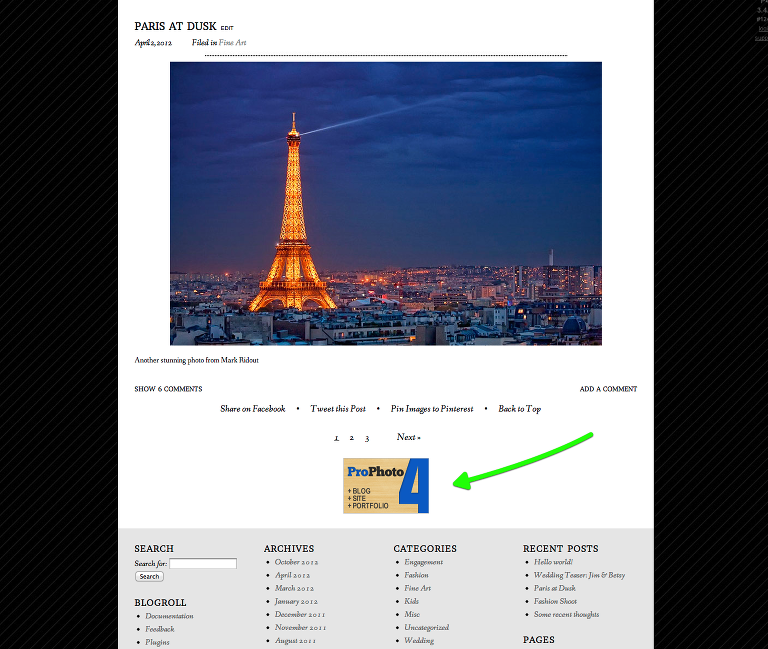 Embedding the video tour:
If you're posting a post on your blog or on a forum with your code, you might want to embed the video tour. It will probably convince more people to use your code and buy the blog. Just copy and paste one of the embed code below:
Size Large:
<iframe width="853" height="480" src="http://www.youtube.com/embed/GOID2JrzkiY?rel=0&amp;hd=1" frameborder="0" allowfullscreen></iframe>
Size Medium:
<iframe width="640" height="360" src="http://www.youtube.com/embed/GOID2JrzkiY?rel=0&amp;hd=1" frameborder="0" allowfullscreen></iframe>
Size Small:
<iframe width="560" height="315" src="http://www.youtube.com/embed/GOID2JrzkiY?rel=0&amp;hd=1" frameborder="0" allowfullscreen></iframe>
If you're posting your quick buck code on a WordPress blog and want to embed that video, just switch into HTML mode (it's a tab in the upper right of the post-writing area) and paste the embed code in.
Directly linking to video tour
Or, if you're not in a situation where you can embed the video tour, you can link directly to it using this link:
http://youtu.be/GOID2JrzkiY?hd=2
I got a code once, but lost it
If you got a quick-buck code at some point, but forgot what it was and can't find it, you don't need to get a new one, you can look up your existing code on the bottom of this page.