Exactly five years ago today, on January 30, 2008, the very first copy of ProPhoto was sold. I dug through our database this morning to see who was the first purchaser, and was gratified to find out that Jacob Oldenkamp — the very first person to fork over their hard-earned dollars to buy this thing I created — is still running ProPhoto on his website. Thanks Jake! (By the way, if you have any interest in upgrading from P3 to P4, hit us up for a free copy, OK? Your money is no good here anymore.)
For those who are interested, below is a brief account of how ProPhoto started:
How it all began…
I would like to claim that I had it all planned out from the beginning, but the truth is far from it. In January of 2008, I was only a few months removed from resigning from my former job as a teaching and worship pastor. Not being able to find a normal job, I was nervously attempting to earn a living for my wife and 2 (at that time) kids by freelancing web development work and helping my wife out with her new photography business. When it came to web development, I really had no idea what I was doing, but I was faking it as best I could and learning as much as I could in the process. I did a few small websites for local businesses (a few are still up!) and in my spare time tried to build a professional-looking blog for my wife's photography business.
She was using a free Blogger blog at the time, which was normal, but we wished she could have one of the cool new custom blogs that the very best and most successful photographers were beginning to have built. There was no way we were going to shell out $5,000 for a custom blog, so I started hacking around with WordPress trying to come up with something that fit the bill. I didn't know anything about PHP at the time, but I managed to come up with something that we were pretty happy with at the time — It had a dynamic slideshow header, a prominent bio area, matched her logo and colors, and was single-column with the ability to display 900px wide images. It's hard to believe now, but those things were very difficult to achieve for the average photographer back then. Here's a screenshot of what her blog looked like: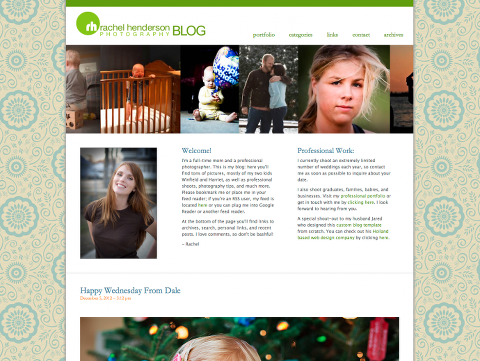 It was only after building her website that the thought occurred to me that because I had built her site as a theme for WordPress, which was free and relatively easy to install, it could be modified to be used simply and inexpensively for other photographers ready to get a more professional-looking blog without breaking the bank. I even thought for a while I might give the theme away for free just for the SEO value of having a link pointing back to my freelance web-development company, NetRivet, and to my wife's photography site. But, for a month or two, it was all just an idea in the back of my head, floating around with a couple other business ideas that I felt I didn't have time to actually execute. If it wasn't for a stroke of bad weather, I'm not sure if ProPhoto would have ever been created.
In late January 2008, I was working late at my "office" (really a desk in a local business incubator where I was doing most of my freelance work) when I tried to drive home in an awful ice storm and found my beloved Mazda B200 pickup was not up to the task. I called my wife and said I was going to crash somewhere at the office and come home the next day when the storm passed. Instead of going to bed (I couldn't find a single comfortable spot to lie down anywhere) I ended up deciding to dust off the photography WordPress blog idea and work on it for a few hours. I ended up taking the theme I custom-created for my wife, and in a few hours made it more generic-looking, and set it up to support about 7-8 user customization options, all of which involved writing or editing the actual theme CSS file. After that was complete, I spend the rest of the night building out a simple website on which to sell the theme, recording my first-ever tutorial video explaining how to install and customize, and figuring out how to accept payment through PayPal and securely deliver the theme files through E-junkie. The website I built looked like this: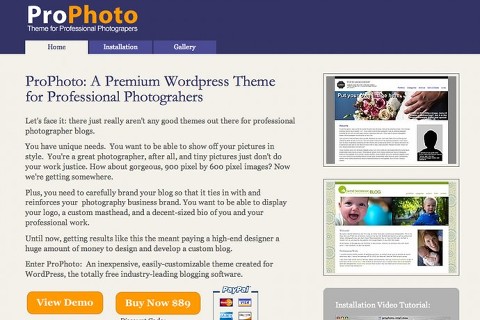 I finished all of this about 10am the next morning, having worked through the night. The next thing I did was jump on my wife's account on OSP and posted in their website forum. I just explained in that forum post how I had made the theme for my wife, and adapted it for other photographers to use, and was experimenting with selling it on the website I had created. I still remember that it was literally less than 5 minutes after I pressed "publish" on that forum post that Jake Oldenkamp read it and purchased the first copy. That was a pretty cool moment for me, I remember being pretty excited that somebody had bought something I made (I was also pretty sleep deprived, which probably added to the buzz).
In hindsight, it was a pretty good sign that the first copy sold so quickly. Only two sold that first day, but sales started trickling in and growing steadily over the next few weeks. I never envisioned it would grow so much. I honestly hoped only to sell a few dozen copies at most and just take a little pressure off how many freelance web jobs I needed to find. Instead, within about two months I realized that I could probably make ProPhoto a full-time business. At that point I started dreaming up ProPhoto version 2, and slowly shutting down the rest of my web business (which really wasn't much of a business at all).
The last five years have been a fun ride. Photographers seemed to really appreciate ProPhoto, and I kept racing to keep up with all of their feature requests. I hired my old friend Matt Dietsche to help with installations around a year later, he eventually came on full time. When Matt transitioned to doing support and then development, I hired my sister Janna to handle installations. As the years passed, we've added three more awesome full-time staff, Dan Lam, Steve Post, and Benjamin Tennant, and have been helped by numerous others. Just this past May we finally left the business incubator (we were using way more than our fair share and really no longer needed "incubating") and moved into our own office in downtown Holland Michigan.
Thanks to everyone who has purchased ProPhoto over the last five years and helped us continually make it a better product. We have no plans of going anywhere or doing anything different anytime soon. Here's to five more years!